2023 Hyundai Kona Model Overview
2023 Hyundai KONA | Murray Hyundai Winnipeg

The 2023 Hyundai KONA
Introducing the new 2023 KONA, retaining its beloved compact size and agile maneuverability but now with a bolder and newly redesigned exterior. Packed with an array of available technology and safety features, city driving becomes effortless and enjoyable. The modern cabin is enhanced with the addition of an available 10.25" full digital gauge cluster, adding both style and functionality to the driving experience.
With the new KONA, you get the best of both worlds - a compact and stylish crossover that's perfect for urban Winnipeg adventures, complete with the latest innovations to elevate your driving pleasure.
Design
Interior
Experience the refreshing blend of fresh air and sunlight that Winnipeg summers offer with the available power sunroof in the new KONA. This advanced system lets you set your preferred temperature, and it continuously monitors temperature and humidity levels to ensure your desired settings are maintained.
Enjoy enhanced comfort with the ability to choose from three levels of airflow intensity when the automated system is activated, allowing you to tailor your cabin environment to perfection.
Additionally, during colder days, warm up in style and comfort with the standard heated front seats. To add a touch of luxury, opt for the available leather-wrapped heated steering wheel, ensuring you stay cozy and relaxed no matter the weather outside. With these thoughtful features, the new KONA enhances your driving experience with an emphasis on comfort and convenience for every drive in Manitoba.

Exterior
Experience the captivating design of the new KONA, highlighted by its distinctive grille that beautifully complements the refreshed headlight design. At the rear, the large wraparound combination lights are artfully sculpted and can be equipped with available LED lighting, ensuring maximum brightness for enhanced safety.
For a unique and personalized style, choose the available two-tone paint option, allowing you to select your preferred exterior color and pair it with a sleek black roof. With this option, you can truly make a statement and stand out on the road with a look that's all your own. The new KONA offers both aesthetics and safety, making it a compelling choice for those seeking a stylish and secure driving experience.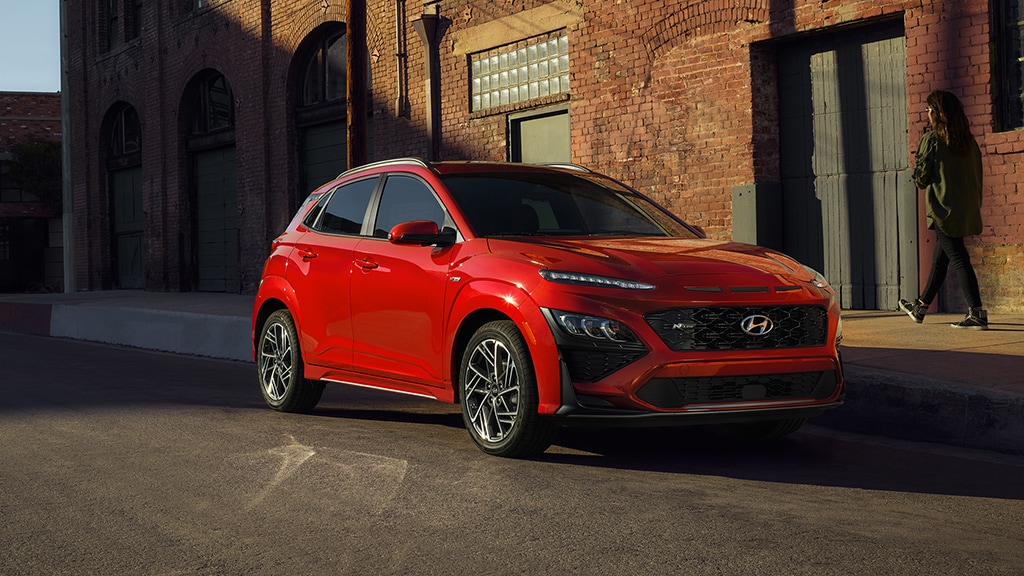 Safety and Technology
The new KONA is built on a robust platform known as SUPERSTRUCTURE, incorporating our cutting-edge Advanced High-Strength Steel. This construction ensures exceptional stiffness and strength, providing a solid foundation for the vehicle.
In the unfortunate event of a collision, the SUPERSTRUCTURE plays a crucial role in safeguarding occupants inside the car. It is designed to absorb and disperse the impact energy away from the passenger compartment, thereby reducing the potential harm to those inside. With this advanced safety feature, the KONA prioritizes the protection of its occupants, making it a reliable and secure choice for your driving needs.
Available Highway Driving Assist in the KONA brings a new level of convenience to your highway journeys. Working together with Lane Following Assist and Adaptive Cruise Control, including traffic stop and go functionality, this advanced system ensures you stay within the speed limit effortlessly.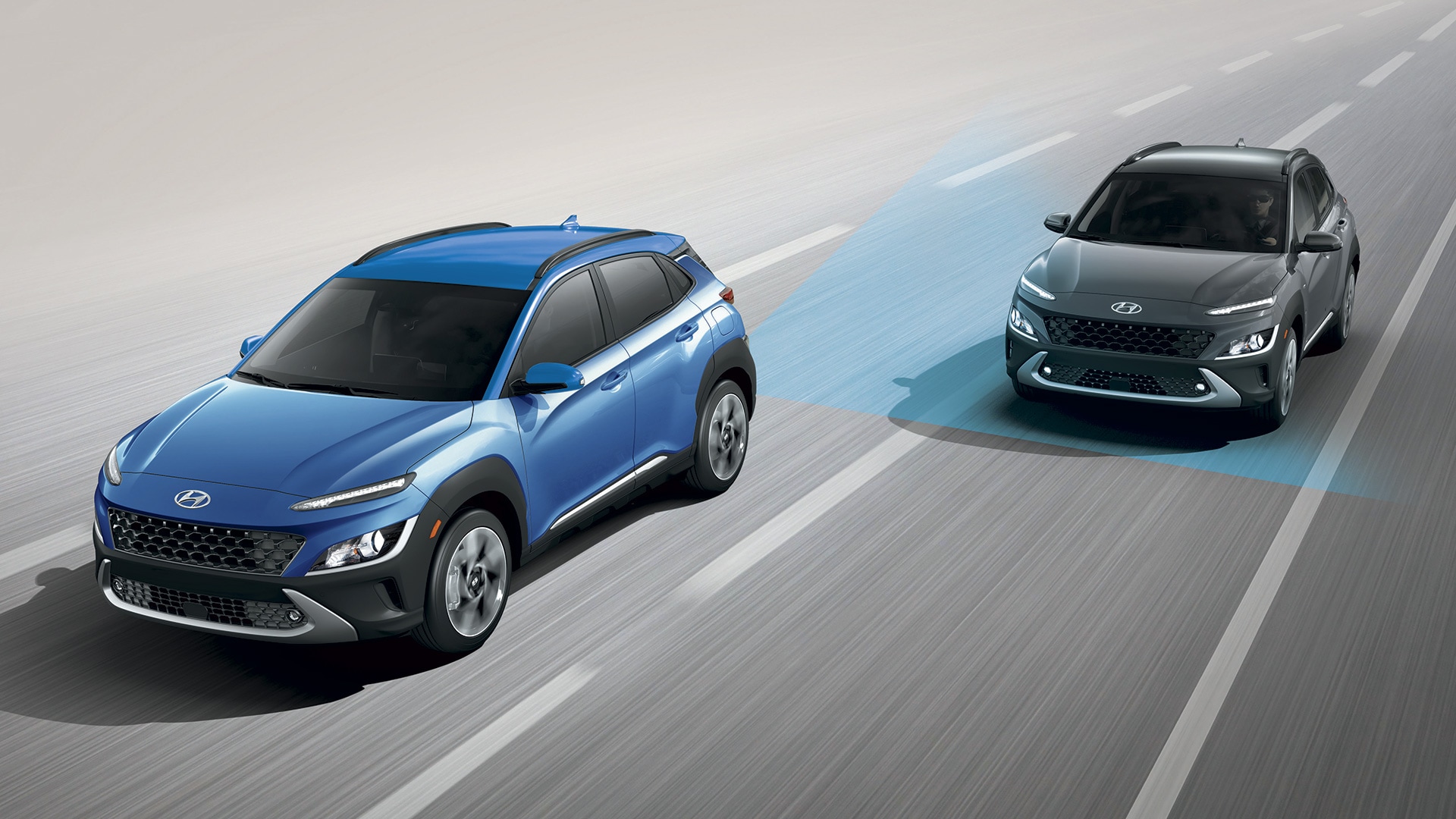 Enhance your safety and driving focus with the available head-up display in the KONA. This innovative feature projects vital information such as speed, navigation commands, and safety warnings directly within your line of sight, allowing you to keep your eyes on the road at all times. By displaying crucial data on the windshield, the head-up display ensures you stay informed and aware of essential information without having to look away from the road ahead. With this technology, the KONA offers a safer and more intuitive driving experience, putting your safety first.
Experience the future of digital displays with the available 10.25" full digital instrument cluster in the KONA. With this advanced digital cluster, you'll enjoy a visually appealing and intuitive interface that provides all the essential vehicle information in a clear and easily accessible manner. 

Performance
The available All-Wheel Drive (AWD) system in the KONA provides exceptional handling and cornering performance, enhancing traction on slippery and bumpy surfaces, and ensuring safer driving experiences in adverse conditions. This advanced AWD system incorporates an active cornering control system that continuously monitors both driver input and road conditions.
When needed, the system automatically and precisely applies power and braking force to the appropriate wheels. By doing so, it helps the KONA maintain a stable course and optimal control on challenging terrains and adverse weather conditions. With this level of responsiveness and support from the AWD system, you can confidently navigate through various road conditions, knowing that your vehicle is equipped to handle whatever comes your way.
Choose from Standard 2.0L MPI 4-cylinder engine with Intelligent Variable Transmission (automatic) 147 horsepower 132 lb.-ft. torque or available 1.6L GDI 4-cylinder engine with 7-speed Dual Clutch Transmission 195 horsepower 195 lb.-ft. torque.
Test Drive the 2023 KONA Today
Book a Test Drive with Murray Hyundai Winnipeg today.