2023 Hyundai Venue Model Overview
2023 Hyundai VENUE | Murray Hyundai Winnipeg

The 2023 Hyundai VENUE
The VENUE is an urban adventurer with a powerful and refined SUV design that exudes a commanding road presence. Equipped with advanced Hyundai SmartSense™ technologies such as Forward Collision-Avoidance Assist with Pedestrian Detection and Blind-Spot Collision Warning, you can navigate the challenges of the Winnipeg concrete jungle with absolute assurance.
Design
Exterior
The VENUE boasts distinctive wraparound headlights that seamlessly merge with a bold side character line, extending all the way to the tail lights. Embracing cutting-edge LED technology, the vehicle's lighting system ensures a more extensive and potent beam of light, enhancing nighttime visibility. Furthermore, the available LED headlights, equipped with active cornering control, provide focused illumination that dynamically adjusts to your steering, offering exceptional clarity during turns.
Step into the VENUE, where modern lines and striking design elements ensure that every arrival turns heads. You can showcase your unique style with a delightful array of fun and vibrant colors, and for select models, you even have the option to personalize with trendy two-tone color accents. The Ultimate-exclusive grille further enhances the already bold and sophisticated SUV appearance, leaving an indelible mark on every observer you encounter. Prepare to make a lasting impression wherever you go in the VENUE.

Interior
Experience the ultimate comfort during colder months with the VENUE's standard heated front seats and the available heated steering wheel. These features ensure you stay cozy and warm, no matter how chilly it gets in the Manitoba winters. For added convenience, you can opt for the automatic temperature control, which intuitively adjusts to maintain your preferred climate, making every drive a delightfully comfortable one. Say goodbye to the discomfort of winter and embrace a warm and inviting cabin in the VENUE.
With the VENUE, you get a vehicle that caters to your everyday urban requirements with its practical and flexible space. The cleverly designed rear shelf allows you to subdivide the cargo area effortlessly, and when not needed, it conveniently tucks away. Furthermore, the rear seats offer a 60/40 split-folding feature, creating ample room for longer items. Even taller objects find their perfect fit, as the trunk floor can be adjusted accordingly. Embrace the convenience and versatility of the VENUE, making it ideal for all your urban adventures and errands.

Safety
At the heart of the VENUE lies the SUPERSTRUCTURE™, an ultra-rigid vehicle chassis engineered with our exclusive Advanced High-Strength Steel. This unique construction sets it apart, as it boasts superior strength, stiffness, and reduced weight compared to conventional steel. As a result, the SUPERSTRUCTURE™ delivers exceptional advantages in safety, ride comfort, and fuel efficiency.
With the VENUE's front-mounted camera and advanced light detection technology, the available High Beam Assist technology takes your driving confidence to new heights. This intelligent feature automatically switches between high and low beams based on real-time traffic detection ahead. As a result, you no longer need to manually adjust your headlights, as the system seamlessly handles it for you, providing optimal visibility without blinding other drivers. Enjoy a safer and more convenient driving experience with High Beam Assist, ensuring you always have the right amount of light on the road.
The VENUE is equipped with an available safety feature specifically designed to enhance collision avoidance. Using advanced sensors, it can detect both vehicles and pedestrians, alerting the driver to the potential risk of a frontal collision. If the driver fails to respond promptly to avoid the impact, the system can autonomously apply emergency braking to help mitigate or prevent the collision. This proactive technology acts as an additional safety net, providing peace of mind and extra protection for you and those around you while driving.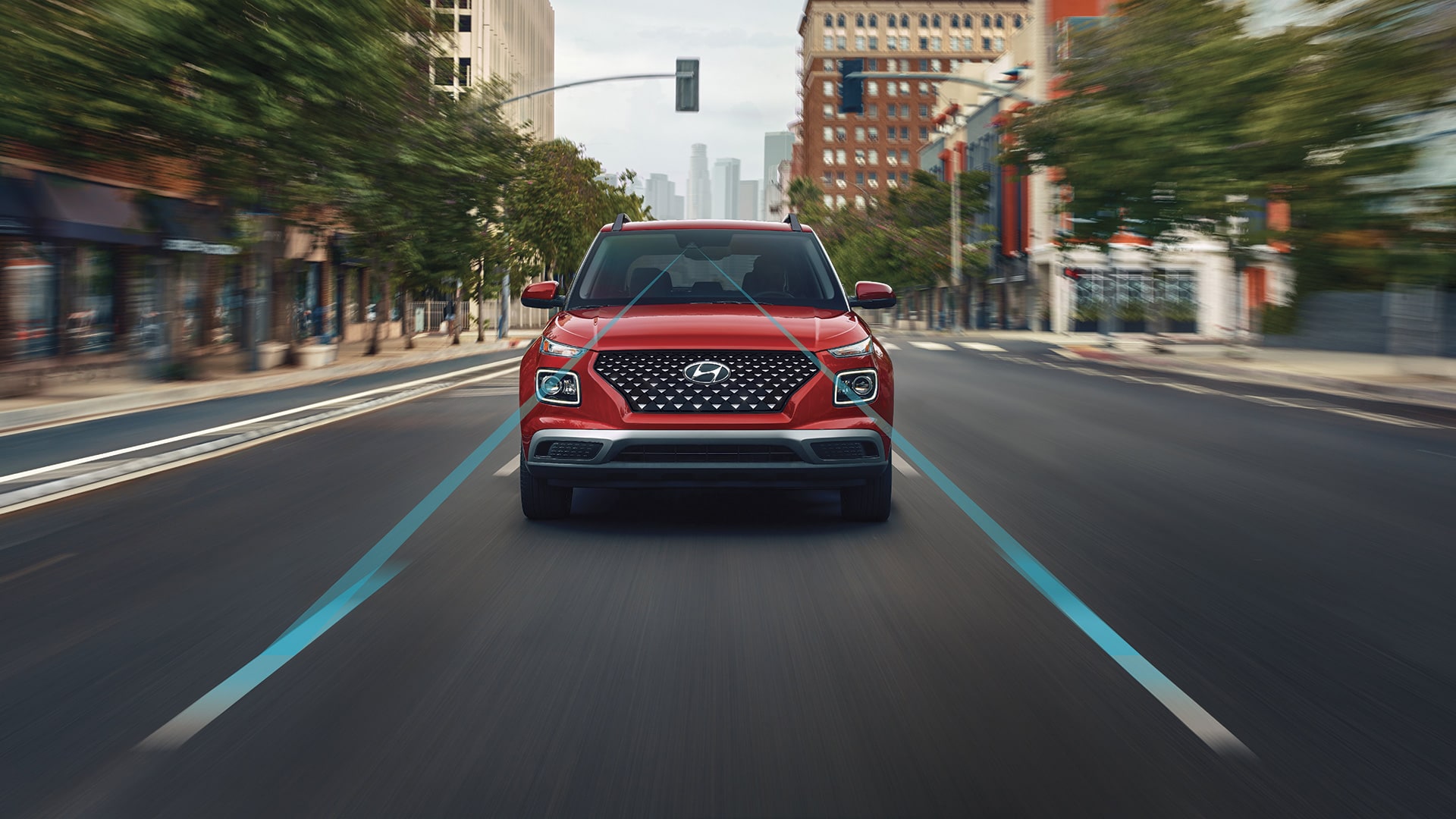 Performance
Unleash your adventurous spirit and explore all day with the VENUE's standard Smartstream Intelligent Variable Transmission. This innovative transmission is engineered to replicate the smooth and natural acceleration of conventional automatic shifting gears, providing you with a seamless driving experience.
Moreover, the Smartstream Intelligent Variable Transmission brings an additional advantage of enhanced fuel efficiency. With its intelligent design and optimized gear ratios, you can enjoy longer journeys with fewer fuel stops, making your exploration even more economical and environmentally friendly. Whether you're navigating busy city streets or embarking on a road trip, this transmission ensures a delightful and efficient ride, keeping you going on your adventures without compromise.
Embrace the versatility of the VENUE and take on various road conditions with utmost confidence, thanks to the available terrain modes. This intuitive feature allows you to switch between different modes to adapt the vehicle's traction settings for optimal grip in specific environments.
Whether you're faced with snowy roads, sandy terrains, or muddy trails, the terrain modes intelligently adjust the vehicle's traction control, ensuring improved handling and stability. By optimizing the grip according to the surface you're driving on, you can confidently navigate through challenging conditions and experience a smoother and more controlled ride.

Test Drive the 2023 VENUE Today
Book a Test Drive with Murray Hyundai Winnipeg today.